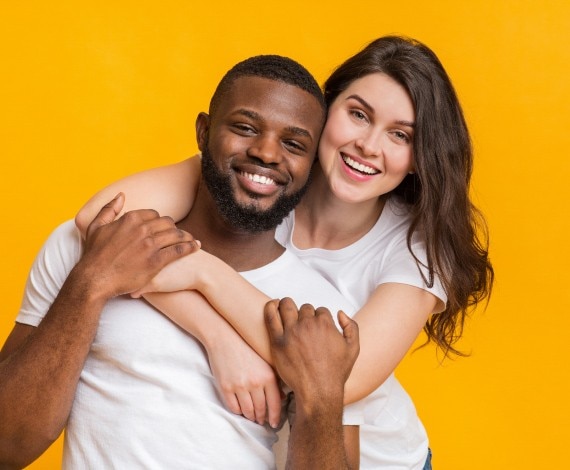 Meet Your Partner on Top Interracial Couples Dating Site
Have you experienced love with someone different from you regarding race, culture, religion, and so much more? It's quite rewarding from many perspectives. When we intimately open up with each other, we tend to find lots of connections in our differences. Ideally, love has no bounds. It doesn't harbor the negativity or harsh judgment so common with many people.
There are many reasons why interracial relationships could prove a great choice for you.
Interracial dating only proves that you've raised yourself above cast and skin color.
People who seek interracial singles have matured enough to understand the importance of true love.
Interracial romance dating is a way to explore what makes you happy and elude the outdated stereotypes.
Interracial relationships increase diversity and slowly eliminate racism and hatred. No population is making this world a better place to live in harmony like interracial couples.
How to Make Use of the Interracial Dating Chat Rooms Online
Before dating local interracial singles, you need to learn some tips that would make it work between you. To be totally clueless while dating singles from a different cast or race might just get you rejected on the first date. Do your homework properly and become familiar with basic guidelines that would help you register success. Believe in the power of love and focus on things that work in your favor.
Although our matchmaking system can be tailored to deliver perfect search results, there is still a lot to weigh in the game. Utilize the search filters to define your interracial dating taste so that all matches being sent your way ticks all your preference boxes. It's a great step to ensuring that you only end up with those you click well together in the private chat rooms.
Once in a chatroom with a prospective partner, communication becomes the best determinant of success in your connection. Language barrier should not be a major issue as you can explore the translation tools in your favor.
To make the best use of chat functions on DateDoo, you need to go through the following basic communication tips:
Keep the conversation light for the first few exchanges. You'd not want to sound stereotypical due to a lack of knowledge about your cultural differences.
Before that crucial first date, ask questions about everything in advance. Make clear your expectations by learning something about their eating habits all through to dressing tips.
Because you're trying to infuse into a different culture, it's important to learn about their traditional values and everything else you need to take care of.